The economic argument for moving manufacturing closer to home
As published by Mexico News Daily
Nearshoring and Mexico. You've almost certainly read or heard the two words in close proximity to each other as the growing economic trend and the North American nation of some 130 million people have been the focus of a spate of recent reports by media outlets including The New York Times, The Wall Street Journal and The Globe and Mail.
Tesla's recent announcement that it would build a "gigafactory" near Monterrey is just one example of the nearshoring (or relocation) phenomenon currently unfolding – and gaining momentum – in regions such as northern Mexico and the Bajío, an industrial hub that encompasses parts of several states including Guanajuato, Querétaro and Jalisco.
Billions of dollars in investment is flowing into Mexico as more and more foreign manufacturing companies choose to set up in the country, or expand their existing Mexican operations, in order to take advantage of a range of benefits, not least of which is location, location, location.
Mexico's proximity to the United States – the world's largest economy and principal market for countless companies – and Canada, and its open trading relationship with its northern neighbors thanks to the USMCA free trade pact are just two factors that make the country an attractive place to invest.
According to U.S. based Entrada Group – a company with more than 20 years' experience guiding international manufacturers in establishing and running their own operations in Mexico – and other stakeholders, including the Mexican government, there are many other reasons why manufacturing in Mexico makes sense.
Near the top of a list compiled by Entrada executive JohnPaul McDaris is competitive operating costs.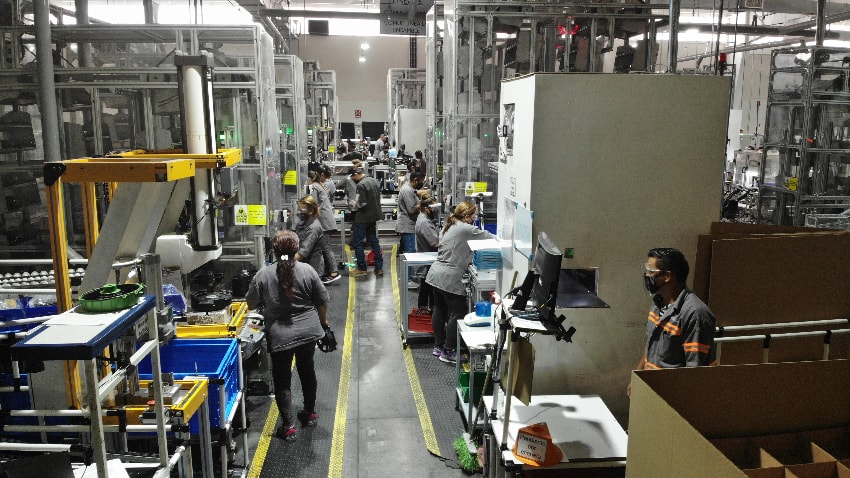 "If you're looking for the most competitive operating costs in North America, Mexico is the obvious answer. Depending on the region of Mexico, hourly direct labor, which is a major contributor to operating costs, can be as low as US $3-8 per hour (fully burdened), or 20-35% lower than similar costs in the U.S.," he says, adding that labor costs in some regions of Mexico are on par with some regions in China, if not lower.
A motivated workforce on the United States' doorstep
McDaris, Entrada's director of business development, notes that "Mexico's workforce is young and wants to work in manufacturing" and that the country is "well connected to, and easily accessed from, the U.S. by land, rail, sea and air."
Those two factors also translate into economic advantages for companies with manufacturing operations in Mexico, as high productivity and comparatively low shipping costs to get goods to market also benefit the bottom line.
For obvious reasons, shipping goods to the United States or Canada from China – which many foreign manufacturers are moving away from due to a range of challenges and concerns – or other Asian countries takes much longer and is significantly more expensive.
In addition, the ability to produce closer to their consumer market offers greater flexibility, insight and control for U.S. and Canadian companies, according to McDaris.
"With production in Mexico, companies can cut production lag time and be more responsive to changes in consumer tastes or seasonality, as well as reduce delivery costs," he says.
"Also, Mexico is ultra-convenient for maintenance, support or engineering visits from the U.S. or Canada. If a machine goes down or a replacement part is needed, an engineer can be in Mexico for repairs the next day. That isn't possible with Asia."
McDaris also observes that products made in Mexico qualify for low or zero-tariff status in the United states and Canada, as long as rules of origin guidelines are met. He says that a move to Mexico does not necessarily mean that a company should shut down its operations in China if it already has a presence in that country.
"In fact, by using both countries in tandem, manufacturers are better positioned to offer more for their clients and further mitigate risk," McDaris says.
"… From a strategic operational perspective, Mexico offers a great hedge against any issues a manufacturer may face with a facility in China. No matter the issue on the horizon in China – whether rising landed costs, U.S. tariffs, or extended delivery times due to rising demand – short or long-term issues can quickly be mitigated by a facility in Mexico."
Currency Advantages for Manufacturers in Mexico
The favorable exchange rate is yet another advantage for manufacturers in Mexico that purchase in U.S. dollars. While the Mexican peso has performed somewhat better recently, it has steadily lost value over decades, creating a situation that is both predictable and beneficial to overseas-based manufacturers that choose to operate in Mexico.
The devaluation of the peso and the different manufacturing "models" available to companies thinking about making the move to Mexico will be among the topics discussed in upcoming articles in this nearshoring series.
Entrada, which counts companies from North America and Europe among its clients, has manufacturing campuses in Guanajuato and Zacatecas, and can facilitate the entire process of setting up and operating in Mexico.
Want to learn more about how you can take advantage of Manufacturing in Mexico? Register for our webinar.